About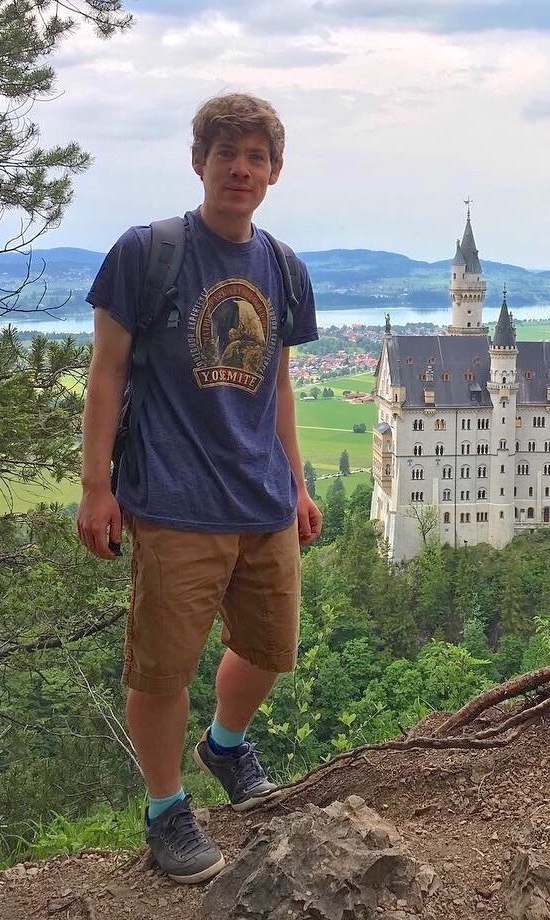 Joseph Manfredi Cameron
I am a 24-year-old postgraduate student currently studying for an MSc in Human-Computer Interaction at the University of St Andrews.
Age: 24
Citizenship: British & Italian
Current Location: St Andrews, Scotland
My experience in studying various aspects of computer science and working as a data scientist has given me a fabulous platform to create and understand complex systems. What really fascinates me though, are the methods and practices of designing and engineering the ways in which we can successfully interact with these systems, whether that system is a website or a neural network. As a result, my goal is to pursue further study in HCI and UX design and then forge a career designing exceptional user experiences and making usable digital products.

In my spare time, I enjoy being outdoors and active. I especially love hiking and snowboarding in the mountains. I am a keen snowboarder and I have official SBINZ Level 2 Snowboard Instructor certification. As well as enjoying mountain sports, I like to run, bike, surf and play the occasional round of golf. As a creative outlet, I produce music with Logic Pro X and design accompanying album covers. International travel is very important to me. I take great pleasure in experiencing new cultures and meeting new people.
Portfolio
Here is a diverse collection of my work, ranging from software development projects to essays. Each portfolio project involving the use of computer programming contains a link to its corresponding GitHub repository, where the project's code can be viewed and downloaded.

For access to all code behind my portfolio projects, and further information about more of my coding projects and assignments not listed here, check out my GitHub profile and my full list of GitHub repositories.
All
Development
Design
Writing
Sumary
Joseph Cameron
Innovative and motivated informatics graduate looking to transition into the field of Human-Computer Interaction and User Experience.
Creative
Diligent
Organised
Effective Communicator
Reliable Teamworker
Education
Bachelor of Science (Honours) in Informatics
September 2014 - June 2018
University of Glasgow, Glasgow, Scotland, UK
Achieved Strong Upper Second Class Honours (2:1)
Honours Dissertation Project: Using Machine Learning to Understand the Topology of Knots (see in my portfolio)
Bachelor of Science in Computer Science
September 2016 - May 2017
University of Toronto, Toronto, ON, Canada
International Exchange Year
Professional Experience
Snowboard Instructor
October 2019 - April 2020
NVSS, Niseko, Hokkaido, Japan
Completed a winter season of snowboarding in Niseko, Japan. Involved training 5 days a week to improve my snowboarding and teaching skills, alongside working as a snowboard instructor.
Achieved my Level 1 and Level 2 SBINZ (Snowboard Instruction New Zealand) certifications during the season.
Significantly improved my communication and interpersonal skills while instructing snowboarders of various ages, backgrounds and nationalities.
Data Scientist
July 2018 - December 2018
Boxergy Ltd, Edinburgh, Scotland, UK
Analysed and cleansed the University of Edinburgh's IDEAL dataset and various raw ELEXON datasets using Python to gain insight into household energy usage.
Trained regression models and neural networks on the aforementioned datasets to predict both household energy usage and energy pricing on various energy markets.
Data analysis, data visualisation and machine learning skills in Python and MATLAB were crucial to secure over £100,000 of funding for Boxergy from the EU-backed Climate KIC accelerator programme and the UK government-backed BEIS Domestic DSR Phase 1 competition grant.
Effectively communicated all analytical findings from data analysis and machine learning projects, both verbally and via data visualisations, to the company's board members during weekly board meetings.
Technical Skills
Here is a selection of programming languages I am proficient in:
Contact
Get in touch with me!
Email:
Call:
Skype Username:
joe_cameron4
Instagram:
LinkedIn: